If you are ordering a personalized name train:
Add the basic engine and caboose to your shopping cart FIRST, and CONTINUE SHOPPING.
Order the quantity of letters you would like NEXT.
Please include instructions for the letters and colors for all items when checking out.
You should also e-mail us at Whirligigs.US, with this information.
OR Fill out our ORDER FORM and fax it to us.
Colors to choose from are: RED, GREEN, BLUE, ORANGE, YELLOW, BLACK, BROWN & WHITE.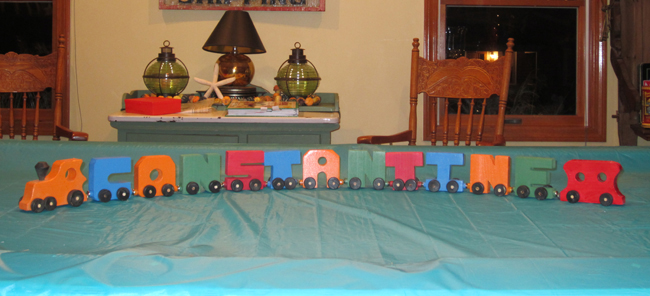 Letter Name Trains teach your child his/her letters and pride in their name! And with a name like "CONSTANTINE" you can make up other names while playing and teaching. You can specify the colors for each letter, and the engine and caboose. This classic design will become an heirloom, shared by generations. Engine and caboose is $13.95 and $5 for each additional letter.
Contact us for more information!

Manufacturer Age Recommendation: 3+ Years



| Whirligigs.US | P. O. Box 366 | Danvers, MA 01923 | 978.888.3537 |
© Whirligigs.US Site Design by
North of BostonTM